Charles M. Bruce
Of Counsel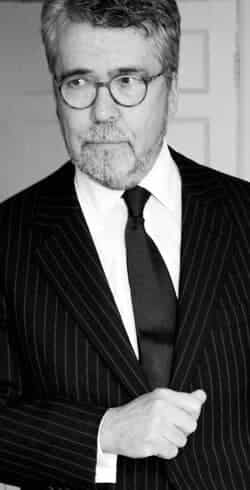 Lausanne
Rue du Grand-Chêne 8
Case Postale 5463
CH-1002 Lausanne
T. +41 (0)21 348 11 88
F. +41 (0)21 348 11 89
lausanne@bonnard-lawson.com
Email: cmb@ilf.ch
VCARD
Education
Washington & Lee University (A.B. 1967)
George Washington University Law School (J.D., with honors, Law Review, 1971)
Titles and memberships
Member American Bar Association (Section on Taxation, Former Vice-Chair Subcommittee on Foreign Activities of U.S. Taxpayers (FAUST); Former Chairman Subcommittee on Foreign Sales Corporations and Subcommittee on Foreign Trusts; Co-Chairman Individual Taxpayer Cross-Border Issues)
Former Chairman, ABA Task Force on International Trusts (FAUST)
Former Chairman, Annual Institute on Multinational Taxation (Georgetown University Law Center and the Chamber of Commerce of the U.S.)
Member International Bar Association (Section on Business Law)
Member International Fiscal Association (U.S. and U.K Branches)
Member Society of Trusts and Estates Practitioners (STEP)
Member International Tax Practitioners Association
Admissions to practice
District of Columbia, 1972
U.S. Tax Court, 1973
U.S. Supreme Court, 1976
U.S. Court of Federal Claims, 1982
Areas of practice
U.S. and international taxation
Trusts and estates
Tax compliance
Private client
Financings
Languages
English (mother tongue)
Professional Experience
Moore & Bruce, LLP – Washington, DC and London
Windels Marx Davies & Ives
Butler & Binion, LLP
Oppenheimer Wolff & Donnelly, LLP
Cole Corette & Bradfield
Tax Counsel, United States Senate Committee on Finance, Washington, DC
Visiting Professor, Law Faculty, Institut für Ausländisches und Internationales Finanz- und Steuerwesen, Hamburg University, Hamburg
Adjunct Professor of Law, Graduate Law Program, Georgetown University Law Center, Washington, DC
Hamel Park McCabe & Saunders
Mr. Bruce specializes in international tax, corporate transactions and financings. He is also known for his work in the areas of trusts and estates, US tax enforcement and Foreign Account Tax Compliance Act (FATCA) compliance.
Mr. Bruce has practiced tax law in London and Washington, DC. Earlier in his career he was Tax Counsel, US Senate Committee on Finance; Adjunct Professor of Law, Graduate Law Program, Georgetown University Law Center; and Visiting Professor, Institut für Ausländisches und Internationales Finanz- und Steuerwesen (International Tax Institute), Hamburg University. He has served as Vice-Chair of the American Bar Association, Section of Taxation, Committee on Foreign Activities of U.S. Taxpayers (FAUST); also for FAUST, Vice-Chair, Subcommittee on Individual Taxpayer Cross-Border Issues and Chairman, Task Force on International Trusts. His clients include large corporations, trust companies, wealthy families, and famous entertainers.
He is widely known for his writings, including a book on U.S. withholding tax rules, a book on U.S. taxation of foreign trusts and a 6-volume compilation (edited) on U.S. international tax compliance.
He is a member of the American Bar Association, International Bar Association, International Fiscal Association (US and UK Branches), the Society of Trust and Estate Practitioners, and the International Tax Planning Association.
Mr. Bruce sits on the Board of Directors of a number of corporations and international charitable foundations. He is General Counsel to a privately held financial and investment advisory group. He also serves as Chairman of the American Citizens Abroad Global Foundation and Legal Counsel of American Citizens Abroad, Inc.
---
Practice Areas
<>